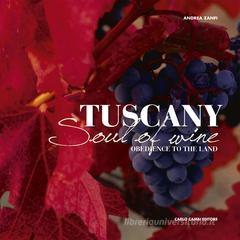 The Carlo Cambi Editore publishing house has just released a new book, Toscana. Anima del vino – L'obbedienza alla terra, the eighth volume in the series "Le grandi aziende vitivinicole d'Italia" (Italy's Great Wineries") by Andrea Zanfi.
The 7 preceding volumes – I Supertuscans (Supertuscans, 1st and 2nd editions), Viaggio tra i grandi vini di Sicilia (Journey Through Sicily's Great Wines), Friuli. Terre, uomini, vino (Friuli. Lands, People, Wine), Piemonte.la signora del vino (Piedmont. the Lady of Wine), Le Marche.l'orto del vino (The Marches.Garden of Wine), Veneto, noialtri e il vino (Veneto, We and Wine) and Lombardia. Il mosaico del vino (Lombardy. The Wine Mosaic) – published over the past fifteen years have been praised by the public and critics, internationally as well, with repeated prizes and honors at prestigious competitions like Libri da gustare (Books to Savor, Turin) and Gourmand World Cookbooks Awards (Barcelona, Stockholm, Kuala
Lumpur, Beijing, London, Paris).
The author, aided by the entire Carlo Cambi staff, has for years been engaged in a meticulous and full-coverage endeavor, researching not only the finest wines in Italy but above all the cultural aspects regulating the complex wine districts in the Italian regions, delving into not just the past and possible future of the sector but also the decisions and  enterprises of all those vintners who have been able to attract the attention of the domestic and international markets.
This new book, Tuscany. Soul of Wine – Obedience to the Land is about the finest wineries in one of the world's most famous wine districts. And precisely for its great number of wineries worth visiting for their historical and productive importance, Tuscany required a meticulous effort at selecting the vintners later recounted in the book through narrative brushstrokes able to capture their truest and most sincere aspects. Not just the mere vision of a business and its finest products but the tale of a journey to discover who is "behind" wine and its creation, in the interest of discovering, in Zanfi's view, how much had survived of that Tuscan spirit that so influenced the formation of this landscape and how much of that sense of beauty it encompasses, an inspiration to the lofty minds of artists and poets, was still preserved within the hearts of the wine growers.
A region that has few rivals in the world where wine is concerned.
Certainly due to its vintners but also to a felicitous natural environment and a culture refined through millenniums. Two-thirds of Tuscany is hillside and so is its typical agriculture. In fact, since medieval times and onward through centuries of labor, Tuscans have "built" their farmlands, cutting down forests, uprooting stones, positioning in significant parts of the territory their houses, villas and farms; making slopes arable with embankments and terraces supported by drywalls and separating their properties with rows of cypresses, hedges and low walls: in a certain sense this work of its inhabitants has "beautified" the countryside.
After visiting more than a hundred wineries and selecting 112, Zanfi chose 91 for his book and traveled around for months, intent on getting to the soul of the Tuscan wine world.
He thus describes his travels and research: "A precise and meticulous ramble, during which I met farmers, wine growers, entrepreneurs and the ever-present "bischeri". In all these lands of wine, as I love to define them, I discovered as often as not, an aspiration in those I met to preserve the same harmony between man and earth for which I was searching, even if at times in some, though fortunately rare, cases it was carried on more in an aesthetic sense than as a measure of the soul. A sense that had inspired the construction of the "pievi" (rural churches), stern castles and monasteries, those splendid and linear farm houses of stone, traced onto the hills and populating the valleys, an expression of an internal, ethical and spiritual equilibrium that, alas, has been watered down, though not completely dissolved and can still be found alive as ever in some locations. It was a journey that reconciled me with my Tuscany, and showed me how these lands, as they change owners and pass from hand to hand, are fortunately multifaceted, eclectic and tough enough to adapt to and match all the cultures that have treaded upon and attempted to interact with them. They are lands now accustomed to rarely hearing the Tuscan dialect spoken and are surprised neither by foreign words, nor the babble of the languages heard on every street corner, in every "trattoria" and vineyard.
Travel composed of tastings, meetings and long talks with a great many farmers, business people and "vignerons" this time embarked upon with two photographers, who shared the arduous task of worthily illustrating the book: Tuscan Luigi Biagini, whose Viaggio tra i luoghi danteschi in Toscana (Journey Through Dantesque Places in Tuscany) was published by Carlo Cambi in 2009, and Sicilian Giò Martorana, a former companion of Zanfi in previous adventures traveling through Italian regions, whose fine work is known and admired by the more knowledgeable public and sector experts.
After years of reflections gathered in traveling through Italy far and wide – from Sicily to Friuli, Piedmont to the Marches, Veneto to Lombardy – and personally visiting some one thousand wineries, the author therefore continues his Italian wine-world journey for the Carlo Cambi publishing house through the many-faceted territories of Tuscany (for the second time, after Supertuscans) from the Rufina zone to that of Chianti Classico, from the Lunigiana to the Lucca and Pisa hills and then down to the sea, to Bolgheri, and back up towards the interior to Cortona, Montepulciano and Montalcino, descending again through the Val d'Orcia to the Maremma coast.
Tuscany. Soul of Wine – Obedience to the Land is a hefty, 480-page volume (30×30 cm, 7 lbs) through which the wine lover can discover – thanks to the author's original descriptions – the soul of Tuscan winemaking territory and the personalities of those living and working in it, also getting more technical and complete information about wine production: vinification stages, the finest vintages of the wines selected and much, much more.
A book to read, consult, keep in one's library but also simply leaf through and enjoy with one's eyes; a new and important piece of the Italian wine picture enabling all readers (from simple wine buffs to wine professionals) to have a detailed photograph of the Tuscan wine movement and its leaders.
The introduction (La Toscana del vino tra passato e futuro – Wine Tuscany, Past and Future) was written by Zeffiro Ciuffoletti and Leonardo Casini of Florence University and a whole chapter was devoted to the numerous enologists and producers who wished to express themselves in regard to the "future of grape growing and wine in Tuscany. Opportunities and advantages, problems and uncertainties in a winemaking system on the way to big changes".
In alphabetical order, this is the book's "gallery" of Tuscan vintners: Agricola San Felice, Altesino, Amerighi, Antinori-Tenuta Guado al Tasso, Avignonesi, Badia a Coltibuono, Banfi, Barone Ricasoli-Castello di Brolio, Biondi Santi, Boscarelli, Cantina Vignaioli del Morellino di Scansano, Casanova di Neri, Castell'in Villa, Castello di Ama, Castello di Bolgheri, Castello di Cacchiano, Castello di Fonterutoli, Castello di Gabbiano, Castello di Monsanto, Castello di Querceto, Ciacci Piccolomini d'Aragona, Col d'Orcia, Collemassari, Colognole, Contucci, Costanti Andrea, Dei, Dionisio Fabrizio, Eredi Fuligni, Fattoria Colleverde, Fattoria del Cerro,
Fattoria di Magliano, Fattoria Lavacchio, Fattoria Le Pupille, Fattoria Nittardi, Fattoria Poggio di Sotto, Fattoria San Felo, Fattoria Selvapiana, Fattoria Sorbaiano, Fèlsina, Fontodi, Frescobaldi-Castello di Nipozzano, Grattamacco, Gualdo del Re, Guicciardini Strozzi-Fattoria di
Cusona, Icario, Il Marroneto, Isole e Olena, La Cipriana, Lamole di Lamole, Le Casalte, Le Macchiole, Massa Vecchia, Mastrojanni, Molino di Sant'Antimo, MorisFarms, Ormanni, Pacenti Siro, Panizzi, Petra, Piaggia, Pieve de' Pitti, Pieve di Santa Restituta, Podere Forte, Podere Le Bèrne, Podere Le Boncie, Poggio Argentiera, Poliziano, Querciabella, Rocca di Montegrossi, Roccapesta, Salustri, Salvioni-La Cerbaiola, San Giusto a Rentennano, Satta Michele, Tenimenti d'Alessandro, Tenuta Argentiera, Tenuta del Buonamico, Tenuta dell'Ornellaia, Tenuta delle Ripalte, Tenuta di Capezzana, Tenuta di Lilliano, Tenuta di Valgiano, Tenuta Fanti, Tenuta San Guido, Tenuta Valdipiatta, Tenuta Vitereta, Tenute Folonari, Tenute Silvio Nardi, Terenzuola, Uccelliera.
Enjoy the book.
Carlo Cambi Editore