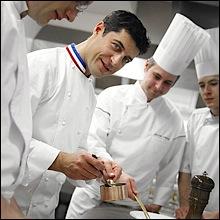 MICHELIN STAR AWARDED TO LE SAINT-MARTIN
Michelin rewards Yannick Franques
with a 1 star rating… and  the title of "future 2-star prospect"
Just one year ago, he took over at the head of the kitchens at Château Saint Martin & Spa, taking up the challenge laid down by Managing Director Philippe Perd and opening two new dining areas.
La Rôtisserie, a convivial restaurant on the blue-sky balcony with open kitchen, open spits and open wine cellar.
Le Saint Martin, a gastronomic restaurant for 35 diners where the watchword is excellence of produce.
Today, the Michelin Guide has rewarded this passionate "Meilleur Ouvrier de France" with a well-deserved 1 star rating and is encouraging the master craftsman with the seldom-bestowed title of "Future 2-Star Prospect".
Supreme recognition indeed for this acolyte of Alain Ducasse and Christian Constant, who for 8 years seconded Eric Fréchon (Le Bristol in Paris), himself recently rewarded with a third star this year.
It is also an honour for the Oetker family, whose spirit of excellence reigns over both establishments under the Oetker Hotel Collection label.
Known for his classic mastery that makes no concession to artificial trends, his uncompromising authenticity and what amounts to an obsession with quality products, Yannick Franques has revamped the gourmet prestige of the former temple commandery.
He and all his staff can today feel extremely  happy with this prize, starting with his second-in-commands Romain and Cyril, pastry chef Jean-Michel Manière, wine waiter Jean-Christophe Rault, Pierre Bressan, the loyal restaurant manager, and of course all the room personnel who each day give of their best and watch over every single detail.