The suites at Poggio ai Santi are all designed for two people. Our clientele primarily consists of couples or of single guests who above all seek a peaceful and harmonious stay, at the heart of a botanical park, with panoramic views, which is unique amongst its kind. We do not accommodate children under 12 years of age.
For our family clientele, we have our "La Muccheria" residence, which boasts its own swimming pool and 5000 square metres of landscaped gardens. There, the apartments can accommodate four or five people.
Restaurant
"Situated on the ground floor of Podere de Poggio ai Santi, the restaurant can seat around thirty guests. Under the management of Denny Brucci, "Il Sale" is an exclusive venue, which offers delicate dishes in the best Tuscan culinarytradition, with a particular accent on the sea, as well as slow-cooked dishes.  There is a terrace bar in the summer and a lounge with a fireplace in the winter, where you will find it easy to wind up a perfect day prior to your evening meal. For lunch, "Il Sale" offers light and simple dishes.
Organic Farm
"Poggio ai Santi" encompasses 30 hectares of farmland: 12 ha of olive trees, 3 ha of cereals, 1 ha of fruit trees and 0.5 ha of kitchen garden, which supplies the restaurant.  All of the produce is organic.  As well as olive oil, "Poggio ai Santi" also offers honey, jam, various gifts made from its own lavender and a remarkable pasta which has been organically produced.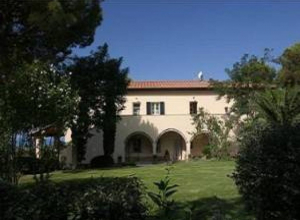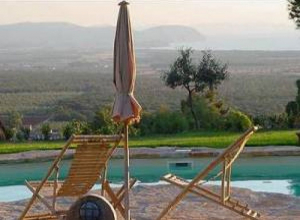 Boutique
The "Poggio ai Santi" farming business produces organic, IGP (indication of protected origin) extra virgin olive oil, various types of honey, lavender and rosemary, pasta and other typically seasonal products dependant on the harvest.  All sold directly on the premises.
Discover
By clicking on "Discover", you will discover all the resources of the region that we have selected for you.  We are happy to advise our guests for the duration of their stay, in order that they might choose the activities which best suit their needs.
Prices
Daily rate, according to season from 142 euros to a maximum of 399 euros per suite or double room, including breakfast. We would be happy to create a detailed and personalised rate for you, according to your preferred season, the number of people and the type of services that you require. "Poggio ai Santi" is open all year round.
Poggio ai Santi has suites (from 40 to 80 m²) and two bedrooms (35 and 45 m²). They are distributed over three buildings, all of them located inside the park: the main building, a "Podere" which dates back to the nineteenth century, a panoramic villa with breathtaking views, and a delightful outbuilding, a former stables located at the edge of the pine forest. The suites are equipped with delightful bathrooms with shower, and some with a bathtub: a room in itself that harmoniously mixes space and luxurious materials. Five of the suites offer a small kitchenette and most of them have their own private terrace. Poggio ai Santi reflects the loving care Francesca Vierucci, its owner, has taken in furnishing and decorating these apartments, making sure each and every detail was attended to with a perfect taste. No two room are alike.
Every morning, the housekeeper prepares hot pastries, fruit tarts and home-baked bread for breakfast, accompanied by natural honey produced right here at Poggio ai Santi and home-made jams, as well as a wide variety of typical products of the region. A spacious terrace with sea view during summer, or a lush winter garden, looking out over the Tuscan archipelago, complete the picture of this privileged locale. A healthy breakfast is ideal to start a beautiful day! Indeed, at Poggio ai Santi, spending a bit more time for this morning ritual, would never go amiss, since you will not only start your day properly refreshed and healthy, but can use your time to find out about individual day trip suggestions or walks to make the very most of your holidays.
Poggio ai Santi/Sale Restaurant – via San Bartolo, 100 I-57027 San Vincenzo (LI)
Tel +39 0565 798032  Fax +39 0565 798090  poggioaisanti@toscana.com