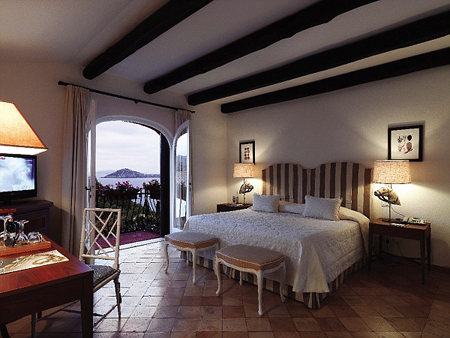 "1st among the 100 Best Southern European Hotels", Condé Nast Traveler
"6th among the Top 100 Best Hotels in the World", Condé Nast Traveler
"8th among the 20 Int'l Hideaways", Andrew Harper Readers' 08 Awards
"Among the 100 Best Hotels in the World", Travel & Leisure 2008
"Rising 2 Stars Michelin IL PELLICANO Restaurant", Michelin Guide 2008
"Second Best Hotel in Europe for Food", Condé Nast Traveller 2007
Antonio Guida Chef di Cucina
Antipasti
Verdure con erbe e fiori, mozzarella di bufala, fondo di rucola con un accento di aceto ai lamponi   
Scampi e rana pescatrice in tempura, con tartare di acciughe e salsa agro – dolce  
Primi Piatti
Risotto al nero di seppia e salvia con calamaretti spillo e crema di riso alla curcuma   
Linguine con zafferano, uva bionda, finocchio marino
e salsa di sarde   
Pici all'aglione con crema di lenticchie  
Garganelli al pettine con gamberetti rossi, pesto di levistico,
e latte di mandorla  
Crema di insalate amare selvatiche con piccoli gnudi di ricotta dell'alta Maremma  
Dal Mare
San Pietro alla griglia con lumachine di mare e pastina all'acciuga  
…dal taccuino del Pasticciere Nicola Di Lena
 
Parfait alla liquirizia con cristalli di foglie di tabacco Kentucky, pera alle spezie e crema al caffè Chickmagalùr Karnataka
Layered liquorice parfait with dried Kentucky tobacco leaves, spiced pear and creamed Chickmagalùr Karnataka coffee sauce  
Strawberry Fields Forever (John Lennon)
Fragole marinate alle erbette con pomodoro alla vaniglia
e gelato allo yogurt
Herbs marinated strawberry with vanilla flavored tomato
and yogurt ice cream  
A Midsummer Night's Dream
(William Shakespeare)
Bianco mangiare al cocco lamponi farciti e salsa alla banana caramellata
Coconut Blancmange with raspberry and caramelized banana sauce  
Vini abbinati da Mirco Favalli
Champagne
Vallée de la Marne Mareuil – Sur – Aÿ
Laurent – Perrier – Tours sur Marne
 
Rosé
Brut 
 
12 % vol 
s.a.
 
Veneto
La Biancara – Gambellara (Vi)
 
Sassaia I. G. T.
Garganega e Trebbiano 
 
12,5 % vol 
2008
Dario Princic – Via Ossario (Go)
Sauvignon I. G. T.
 
13 % vol 
2002
Emilia
 
La Stoppa – Rivergaro (Pc)
 
Ageno I. G. T.
Malvasia, Ortrugo e Trebbiano 
 
12,5 % vol 
2005
Le Due Terre – Prepotto (Ud)
 
Implicito I. G. T.
Picolit
 
13,5 % vol  
1997
Francia (Loira)
 
Ferme de la Sansonierrère – Thource (Anjoui)
 
Rosè  d'un Jour V. D. T.
Cabernet S., Grolleau Gris 
 
11 % vol 
2008
Piemonte
Dott. Giuseppe Cappellano – Serralunga d'Alba (Cn)
 
Barolo Chinato 
17,5 % vol  
n.m.
Own garden herbs and flowers with sautéed vegetables, buffalo mozzarella, rucola jus, sprinkled with aromatic raspberry vinegar  
Tempura of scampi and monkfish, tartar of anchovies with sweet and sour sauce  Primi Piatti
Risotto with ink's squid and sage, baby calamari with creamed curcuma rice   
Linguini with saffron, sultana, sea fennel and anchovies sauce  
Pici with creamed lentils and garlic
Garganelli with shrimps and lovage pesto with almond milk sauce  
Wild field bitter herbs soup with baby ricotta dumpling  
Grilled John Dory fillet, whelks with pastina and anchovies 
Federico Morosi Bar Manager
Aperitivo
Il Pellicano Cocktail
Ingredienti:
7/10 Vodka Orange
3 / 10 Mandarinetto Isolabella
Qualche goccia di Lime
Preparazione:
Nel Mixing glass mettere alcuni cubetti di ghiaccio versarvi gli ingredienti, mescolare e filtrare nella coppetta da cocktail ghiacciata, decorare con un oliva farcita di scorzetta di arancia
  
Pani fatti in casa con lievito madre…dal taccuino del Pasticciere Nicola Di Lena
 
Pane con farina integrale di Altamura
Casereccio (Farina di segale)
Baquette al fior di sale
Grissini all'olio di oliva
Carta musica al rosmarino
  
Olio
Olio Extravergine di Oliva:"Villa Magra Gran Cru" La migliore produzione dell'Oliveto Villa Magra
Regione: Toscana
Zona di produzione: Collina di Montenero d'Orcia
Altitudine: 350 m. s.l.m.
Varietà: Correggiolo e Moraiolo
Sistema di raccolta: Brucatura a mano
Periodo Raccolta: Ottobre
Sistema di estrazione: Frantoio Franci, ciclo continuo
Aspetto: filtrato
Densità: alta
Colore: verde intenso
Profumo: fresco, erbaceo penetrante e potente con note dominanti di carciofo, cardo e mandorla acerba, impreziosito da sfumature floreali e di amarena che danno vita ad un bouquet di estrema complessità.
Sapore: ampio, con potente e decisa carica amara e piccante dominata da un'ottima armonia, grande complessità di sentori vegetali con lunga persistenza di morbide note aromatiche.
Impiego: rigorosamente a crudo per contrastare la componente dolce di patate, fagioli, ceci e zuppe di verdure in genere; su carni rosse o su pesci molto saporiti; in abbinamento a formaggi freschi come raveggiolo o mozzarella che esaltano la componente fresco-vegetale dell'olio, ottimo su tortelli ricotta e spinaci, riso o pasta in bianco con parmigiano a scaglie