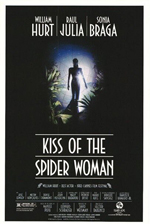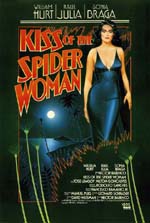 Musical di John Kander & Fred Ebb
TEATRO COMUNALE DI BOLOGNA
 
Prima esecuzione italiana
 
   Aurora/Donna Ragno  Martina Pezzoli/Elisa Colummi
   Molina  Gianluca Sticotti/Marco Trespioli
   Valentin  Michael Anzalone/Nicola Anfuso
   Madre   Stefania Paternò/Tania Occhionero
   Marta   Micaela Perardi/Cristina D'Amore
   Gabriel  Daniele                                       Palumbo/Giovanni Piscopo
   Direttore  Simone                             Mastria/Davide Dalseno
   Esteban                                              Giovanni Piscopo/Daniele Palumbo
   Marcos                                               Davide Dalseno/Simone Mastria
   Aurelio vetrinista                               Daniel Favento/Salvatore Marchione
   Fuentes prigioniero                            Marco Pasquini/Emanuele Marzocchi
   Osservatore                                        Cristina D'Amore/Micaela Perardi
 
Direttore                                             Stefano Squarzina                                      
Ensemble vocale della              Bernstein School of Musical Theatre di Bologna 
Regia                                                  Gianni Marras
Coreografie                                          Marcello Fanni
Direzione musicale                             Shawna Farrell
Scene e proiezioni                               Andrea De Micheli                          
Costumi                                               Massimo Carlotto
Luci                                                    Daniele Naldi
Versione italiana a cura di                 Andrea Ascari
 
Orchestra del Conservatorio "G. Frescobaldi" di Ferrara
                                                          
Martedì 28 e mercoledì 29 luglio 2009, alle ore 20.30, nella sala Bibiena del Teatro Comunale di Bologna, all'interno della programmazione de "Al Comunale. Giugno-dicembre 2009", va in scena la prima esecuzione italiana del celebre musical "Il bacio della donna ragno" di John Kander & Fred Ebb.
 
Lo spettacolo è inserito all'interno della programmazione di Bè Bolognaestate, il programma di spettacoli e intrattenimento culturale promosso dal Settore Cultura e Rapporti con l'Università del Comune di Bologna.
 
Lo spettacolo è un nuovo allestimento prodotto dal Teatro Comunale di Bologna in collaborazione con La Scuola dell'Opera Italiana, la Bernstein School of Musical Theater di Bologna e il Conservatorio "G. Frescobaldi" di Ferrara.
 
Tratto dal romanzo di Manuel Puig, Il bacio della donna ragno, divenuto poi anche un film con il premio Oscar William Hurt e Raoul Julia, è considerato da molti come il vero capolavoro degli anni '90, e uno dei migliori del celebrato duo Kander & Ebb, insieme a "Cabaret" e Chicago".
 
Sensuale, inquietante, spettacolare e commovente, il musical si è guadagnato molti tra i premi teatrali più importanti. La musica di John Kander è un mix di sound latino, Broadway classico e Broadway moderno, coadiuvata dalle liriche più profonde e sentite della produzione di Fred Ebb.